María Branyas Morera – The World's Oldest Living Person – Now Almost 116-year-old
In a world where time seems to rush by, there shines a remarkable beacon of vitality and wisdom. María Branyas Morera, known as the Catalan 'supergrandmother,' has etched her name into history as the oldest person on Earth. At the age of 115 years and 320 days, she continues to defy the odds and inspire us all.
Although she was born in the United States in 1907, María currently resides in the picturesque city of Olot, Catalonia. Her journey is nothing short of extraordinary. Born to a journalist father and a Catalan mother, María's family embarked on a transatlantic adventure. Her mother, hailing from Mexico, had a clear vision of establishing her own media outlet – the "Mercury" magazine – in San Francisco. However, destiny had other plans. They returned to Catalonia following her father's untimely passing when she was just eight years old.
In 2020, María Branyas Morera, Spain's oldest woman, triumphed over the adversities of the COVID-19 pandemic, proving that resilience knows no age. Her spirit remains as strong as ever, with over 15,000 followers on social media. She even lends her voice to promote the health benefits of yogurt, an endeavor made possible with the assistance of a dedicated family community manager.
But it's not just her age that sets her apart. María, affectionately known as "Supergrandma," takes every opportunity to share invaluable advice on self-care. Her sage words remind us to cherish each passing year as a precious gift, a humble celebration, a new adventure, and a beautiful journey filled with moments of happiness.
The world came to know María Branyas Morera as the oldest living person when French nun Lucile Randon passed away at the remarkable age of 118 years and 340 days. This bittersweet moment brought the spotlight onto this Catalan woman, brimming with life and energy.
In her own words, María says, "Life is not eternal for anyone… At my age, a new year is a gift, a humble celebration, a new adventure, a beautiful trip, a moment of happiness. We enjoy life together."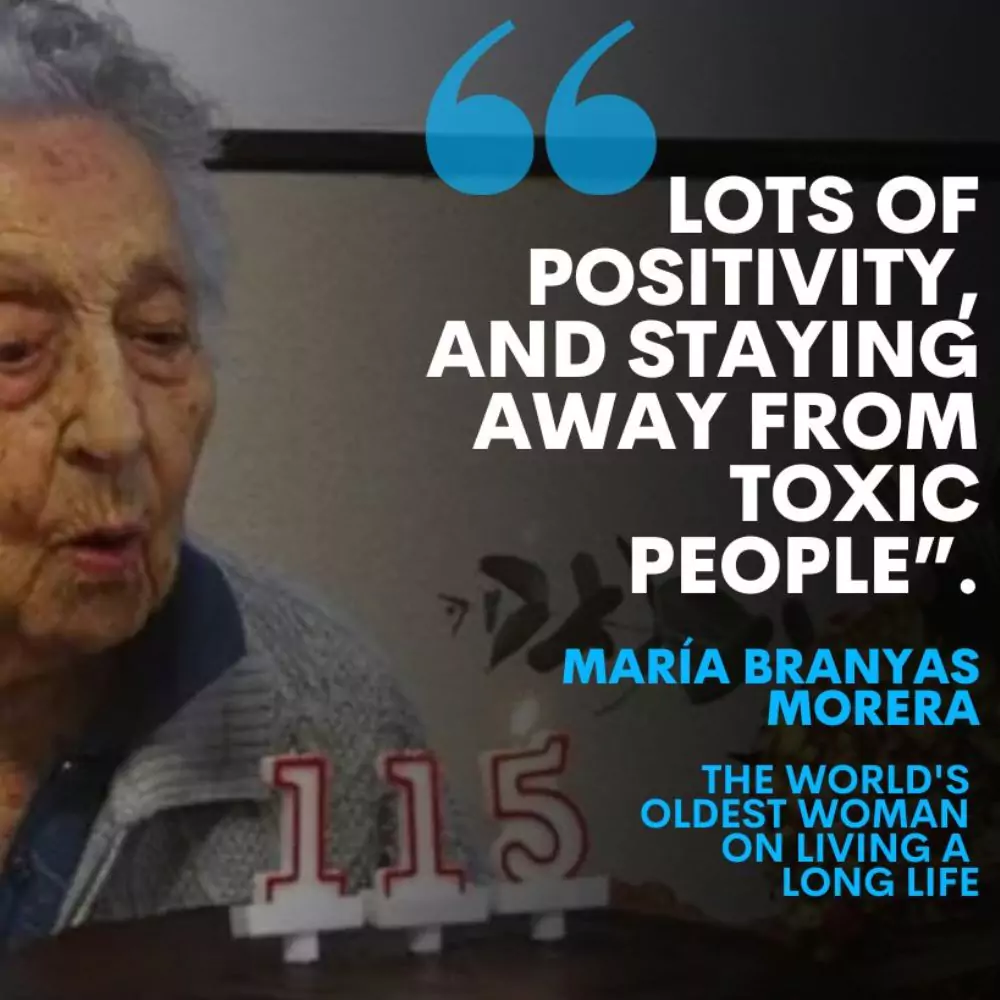 Let us celebrate the spirit of María Branyas Morera, a source of inspiration and resilience from which we can all learn. Her story reminds us not to fear change or the plans that the future holds.
María's remarkable journey is not the only one; there are more centenarians across the globe. The "Súper Centenarios" website ranks the top grandparents who have defied time's relentless march:
María Branyas Morera (born 03/04/1907), 115 years old, Spain.
Fusa Tatsumi (born 04/25/1907), 115 years old, Japan.
Edie Ceccarelli (born 02/05/1908), 114 years old, United States.
Tomiko Itooka (born 05/23/1908), 114 years old, Japan.
Inah Canabarro Lucas (born 06/08/1908), 114 years old, Brazil.
Hazel Plummer (born 06/19/1908), 114 years old, United States.
Kimiko Ono (born 06/20/1908), 114 years old, Japan.
Yasue Okai (born 11/25/1908), 114 years old, Japan.
Nina Willis (born 01/14/1909), 114 years old, United States.
Ushi Makishi (born 02/15/1909), 113 years old, Japan.
To all these extraordinary individuals, Estrella Digital extends heartfelt congratulations. They are shining examples of vitality and a testament to the resilience of the human spirit.