7 Home Cleaning Hacks for a Perfect Party Venue
When you're planning to have a party at your home, it's important to make sure everything is clean and welcoming for your guests. A well-cleaned house not only looks good but also makes your guests feel comfortable and happy. Cleaning your home before a party isn't just about making it look nice; it's also about taking care of the little details that matter.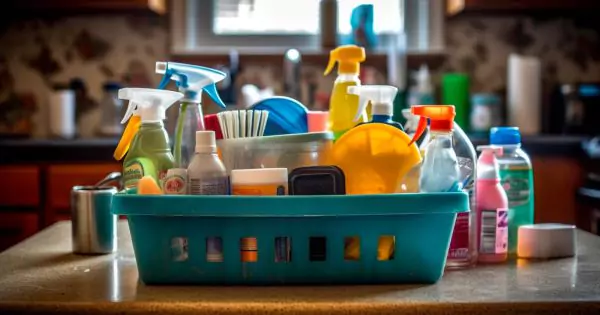 In this guide, we'll go over seven key areas in your home that you should focus on cleaning deeply. This way, your guests can enjoy their time at your party without any worries, and you can be proud of your beautifully prepared space. Let's dive into these essential cleaning tips to help you get your home ready for a fantastic gathering!
Guest Bathroom:
The guest bathroom is a crucial spot to clean. Make sure it's spotless, smells fresh, and looks welcoming. Remember to clean under the toilet seat and inside the medicine cabinet, as guests might peek inside. Keep extra hand towels ready to replace any that get damp during the party.
Tip: Use a mixture of baking soda and vinegar to effectively clean the toilet, including under the rim and seat.
Extra Tip: Place a basket with essential items like hand soap, lotion, and a room freshener in the bathroom for guests' convenience.
Kitchen Appliances:
Clean the inside and outside of your kitchen appliances, like ovens, microwaves, and refrigerators. This ensures a hygienic cooking space and prevents unpleasant odors. Use cooking oil on a cloth to keep stainless steel appliances fingerprint-free. Throw away expired items from the fridge and clean its surfaces. For hard-to-reach spots, like between oven door glass panels, use dental floss wrapped in a soapy cloth.
Tip: Use a mix of baking soda and water to scrub the insides of your oven and microwave, and vinegar for a streak-free shine on the exterior.
Extra Tip: Place a box of baking soda in the refrigerator to neutralize odors.
Front Porch and Entryway:
First impressions count, so tidy up your front porch and entryway. Sweep away dirt, clear out cobwebs, and clean light fixtures. Wash screens, clean glass windows, tidy furniture, and wipe down your door. A simple rinse can refresh outdoor furniture.
Tip: Use a damp cloth to wipe down the furniture and a broom to clear away cobwebs and debris.
Extra Tip: Add a welcoming mat for guests to wipe their feet, reducing the amount of dirt they bring inside.
Litter Box:
If you have a cat, ensure their litter box is thoroughly cleaned. Remove all litter, sanitize the box, and refill it with fresh litter. If possible, move the box to a less visible area. Sprinkle baking soda on top of the new litter to absorb odors.
Tip: Use a mild, unscented detergent to clean the litter box, as strong scents can deter cats from using it.
Extra Tip: Place a mat under the litter box to catch any stray litter.
Living and Dining Room Seating:
Clean the seating in areas where guests will gather, like the living and dining rooms. Use the upholstery attachments on your vacuum for sofas and chairs. Wash pillowcases and spray fabric freshener on soft surfaces like couches, chairs, rugs, and curtains.
Tip: For fabric upholstery, use a mixture of warm water and mild dish soap to spot-clean stains.
Extra Tip: Fluff and rearrange cushions and throw pillows to give a fresh, inviting look.
Floors:
Don't forget to sweep and mop your floors. This improves air quality and removes allergens. Pay special attention to corners and under furniture where dust accumulates. For extra cleanliness, wipe down walls with a clean mop.
Tip: Use a microfiber mop for hardwood floors to avoid scratching, and a steam mop for tile floors to eliminate bacteria.
Extra Tip: Place rugs or mats in high-traffic areas to protect your floors from wear and tear.
High-Touch Surfaces:
Disinfect high-touch surfaces like doorknobs, light switches, and handles to reduce the spread of germs. Use antibacterial cleaner as directed; let it sit for the required time before wiping.
Tip: Use a solution of 1 part water and 1 part rubbing alcohol to disinfect these surfaces without damaging them.
Extra Tip: Keep a small bottle of hand sanitizer in various rooms for guests to use.
Lastly, do your laundry. Wash any dirty clothes and linens to eliminate odors and make your home smell fresh. Changing bed linens after the party can be a refreshing end to a successful event.
By focusing on these areas, you not only create a comfortable and welcoming environment for your guests but also ensure a healthier space for everyone. Remember, the effort you put into preparing your home reflects your care for your guests and contributes to the success of your gathering.