Dog's Epic Reaction to Meeting New Puppy Video
Dogs are remarkable in the way they express their unfiltered emotions, and a recent encounter captured on video showcases this beautifully.
Meet Gillian Robles, a senior at King High School in Tampa, Florida, who is a devoted dog lover. Her furry family includes Indy, a mixed breed with an "attitude," and Arden, a "food-obsessed" black Lab. Both dogs lead a contented life in the loving company of Gilli and her family.
With a house full of canine joy, Gilli and her family decided to expand their furry family even further. They knew that any new addition would undoubtedly become Arden's new playmate. They shared the exciting news with Indy and Arden, but it's safe to say that the true impact of this announcement didn't quite register at the time.
The day finally arrived when Gilli brought home Stella, an adorable champagne-colored Lab puppy. The heartwarming moment was captured on video as the two dogs met, and the result is simply precious.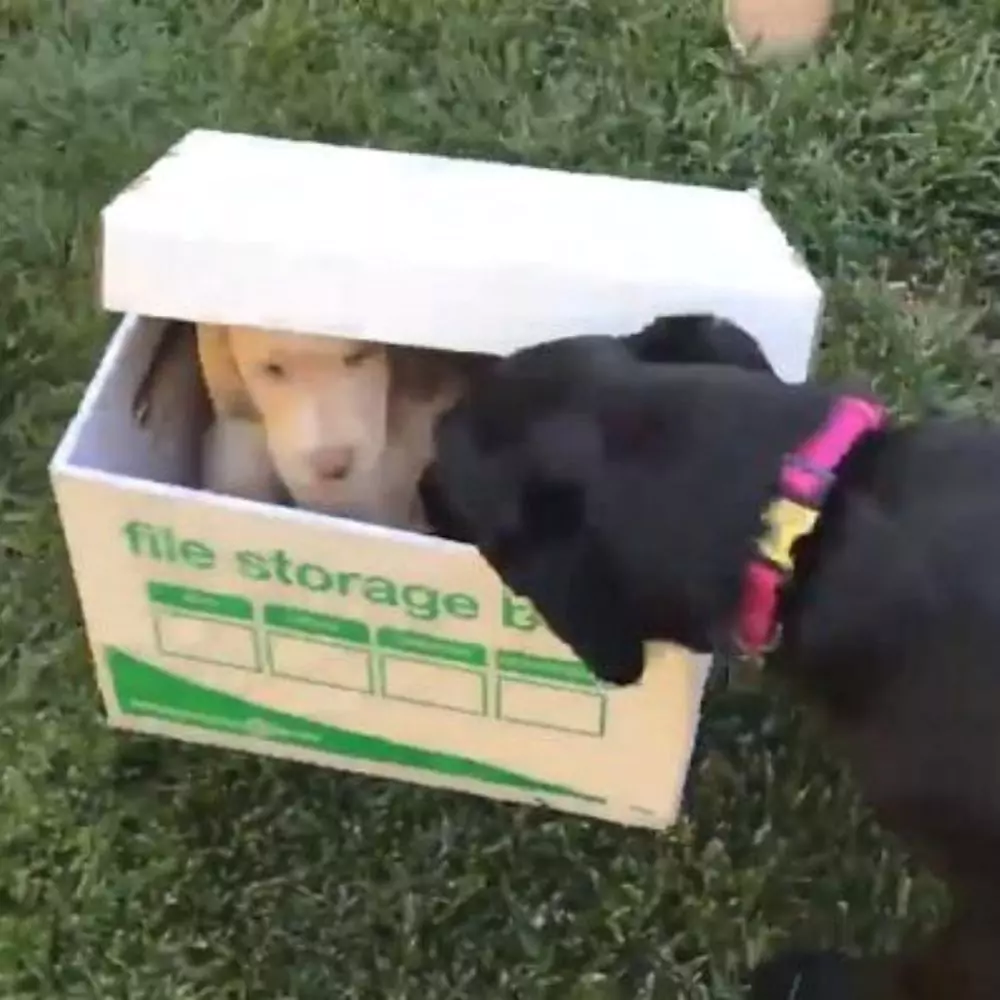 In her tweet, Gilli shared the video, saying, "So we got my dog a puppy today, and this was her reaction…" The family placed Stella inside a box and allowed Arden to uncover her. As Arden catches sight of the puppy, her excitement knows no bounds. Her tail starts wagging, and it soon turns into a full-body tail wag that will have you laughing with joy. Arden's elation is so contagious that she can't help but run around in circles, rushing back to give Stella a friendly sniff before zooming off again. The sheer delight in her eyes is a reminder of the pure, unadulterated joy that still exists in this world.
Gilli's post quickly became a sensation online, amassing over 15 million views on Twitter. People couldn't get enough of Arden's heartwarming reaction, and they eagerly requested more "pupdates" to follow their heartwarming journey.
Arden and Stella's friendship has blossomed just as predicted; they are now inseparable best friends. Whenever you need a mood-lifter, this video is the perfect antidote. In a world sometimes overshadowed by negativity, moments like these remind us that pure love, joy, and enthusiasm are still very much alive – you just need to look for them!
Don't miss the chance to witness Arden's unforgettable meeting with Stella in the heartwarming video below, and be sure to share the joy!