Doctors Told Her Parents That She Would Not Be Born Alive And She Turns 2 With Her Organs Out
During pregnancy, the most important thing for parents is to ensure the health of their child. Sean and Kelly Phizacklea were eager to have a daughter but began to fear the worst when doctors told them something was wrong. Kelly went to the hospital for routine check-ups, she thought everything would be fine but the images revealed something serious
Kelly learned of her baby's problems in the 12th week of pregnancy.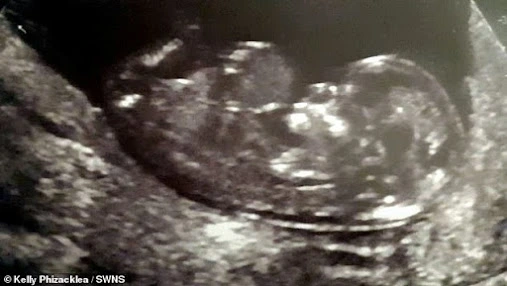 The little baby suffered from exomphalos. It is a condition in which the abdominal wall does not fully develop. Most of the time it is a problem that doctors solve with surgery hours after birth.
Unfortunately, the case of Kelly's daughter was much more serious. The portion of her abdominal wall that had not formed was so large that they could not operate on it until she was three years old. In fact, they thought she had a very low chance of surviving childbirth.
"They warned us not to cry. That she might never make it. I don't know how we managed to stay positive and hope that everything would work out, "Kelly recalls.
Over the course of many weeks, the doctors recommended that the parents terminate the pregnancy, but they refused. They were already madly in love with their baby and were willing to do whatever it took to help her.
Finally, little Laurel was born. Sean and Kelly were very nervous but when they heard her cry, they breathed relief again.
"When I heard her cry I knew she was a fighter. I knew there was still a long way to go, but I knew my baby was very strong, "
Kelly said.
After 7 hours, the parents finally met the beautiful Laurie. They remained in the hospital for the next few months and before the fourth month, the doctors released him to go home.
 Laurie was born with her stomach, liver, and intestines on the outside of her body.
Now, the time has passed and sweet Laurie managed to turn two years old. She is an energetic little girl but needs extra care to avoid injuring her exomphalos. She calls it "my tummy" and for the rest, it is like any other baby.
"She uses bandages constantly to make sure everything is kept in order. She's very naughty so it's a bit stressful to make sure nothing happens to her. She loves jumping all over the house, "
Kelly said.
It is a real relief to know that this brave baby has managed to survive despite the worst prognoses from doctors. With each passing day, she is much closer to receiving the much-needed surgery and will continue to grow as a happy child.
There is no doubt that Laurie's smile is an inspiration to her family and to the entire world. Share!