A Mother's Miraculous Effort to Revive Her Ailing 19-lb Miracle Horse
Meet Peabody, the tiniest and cutest horse in the world who has won the hearts of people on social media. When Peabody was born, he was so small and had health problems. Some experts thought about ending his life because they didn't think he could get better. But a kind lady named Faith Smith, who knows a lot about small horses, didn't give up on him. She drove a long way to meet the people who had him and brought him home with her.
At first, Peabody was very sick and had trouble eating and seeing. But Faith took care of him, and a miracle happened. He got better and stronger. Now, he's about 8 kilograms and is like a part of Faith's family. They even let him live inside their house and sleep in her bed! He plays with her dogs, goes for walks, and they're even teaching him to use a diaper.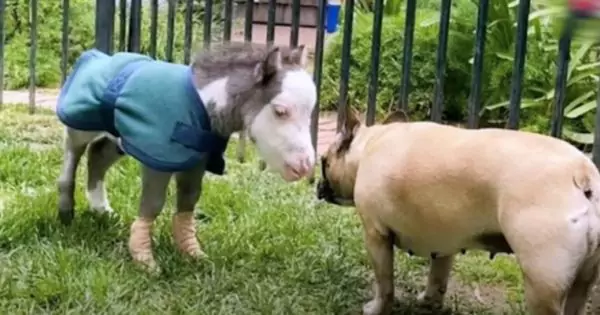 Peabody's future looks bright. If he gets even healthier, he might go outside to be with other horses. But if he doesn't, that's okay too. He will stay with Faith and her dogs and be happy and cozy.